OCTOBER 5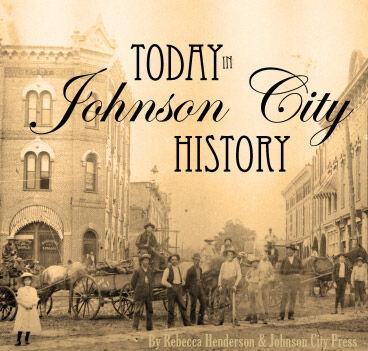 Oct. 5, 1881: The Knoxville Daily Tribune reported that G.C. Harr, as well as William Harr, had recently been in Knoxville. The paper further noted that the Harrs were "leading merchants of Johnson City."
Oct. 5, 1890: Amelia Margaret Young was born. Her initials spelled "AMY," so she was known as "Miss Amy," when she began her career as the first superintendent of Memorial Hospital in 1910.
Oct. 5, 1921: The Knoxville Dailey Tribune reported frightening news. With a dateline of Johnson City, readers learned "No information has been received by the parents or officials of the whereabouts of Minnie Massey, 14-year-old girl, who disappeared while on a shopping tour with her mother Tuesday afternoon although search is being conducted." The article continued to say, "The girl told her mother she would go to another store a short distance away for some articles of food, but she failed to return." The article concluded by saying, "The Massey family came to the city several weeks ago from Pocahontas, Va."
Oct. 5, 1929: The Knoxville Journal reported, "Sunday School and worship services of First Lutheran church will be suspended tomorrow, because of majority of the congregation has planned to go to Johnson City for the dedication of the new Bethlehem Lutheran church of that city, the Rev. W.C. Krueger announced yesterday."
Oct. 5, 1939: The Little Store, corner of West Market and Commerce streets, advertised three cakes of Giant Octagon or Proctor & Gamble soap for 5 cents, tall cans of milk for 5 cents each, "lean streaked meat" at 9 1/2 cents per pound and country farm sausage for 19 cents per pound. A penny in 1939 would equate to 19 cents in 2020 when accounting for inflation. So that sausage would run you $3.61 per pound.
Oct. 5, 1943: The Johnson City Press-Chronicle reported, "Firemen extinguished a rag fire at the Greyhound Service Station, Main and Division streets (sic) about 9 p.m. Sunday. Damage was small."
Oct. 5, 1963: The Spot Restaurants advertised lunch and dinner specials for 95 cents, the equivalent of about $8 in 2020 when accounting for inflation. All students received a 10% discount at Spot No. 1, 421 E. Main St., now home to a McDonald's. Spot No. 2 was where the Kingsport-Bristol Boulevard (North Roan Street) diverged into two highways.
Oct. 5, 1981: Prominent Johnson City businessman Harry Faw had recently died, according to the Press-Chronicle. He had attended law school at the University of Virginia. He was a teller at the Unaka and City national banks in Johnson City and was in the insurance, real estate and loan business from 1931 until 1961. He was president of Faw Trust Co. for 30 years. The article continued to say that he was the secretary and treasurer of the John Sevier Hotel Corp. for 20 years. Mr. Faw was the president of Henderson Realty Co. In addition, he served as the executive director of the Johnson City-Washington County Area Chamber of Commerce. Mr. Faw was a magistrate on the Washington County Court for 30 years and held a magistrate's court for a number of years. Mr. Faw was an active member of Munsey Memorial United Methodist Church for over half a century.
Sources: Knoxville Daily Tribune; "A Beacon to Heath Care" by Ray Stahl; Tampa Daily Times; Knoxville Journal; Johnson City Press-Chronicle.