When Ryan Edwards wrote the first name on the Science Hill lineup card, opposing teams were in trouble.
That's because Cole Torbett was going to be a problem, whether he was at the plate, in center field, or on the mound.
The key player in leading the Hilltoppers to the Class AAA state baseball championship, Torbett was chosen Wednesday as the Johnson City Press/Times News Super 22 player of the year.
Torbett, a junior, edged out Sullivan South sophomore Drew Hoover for the honor.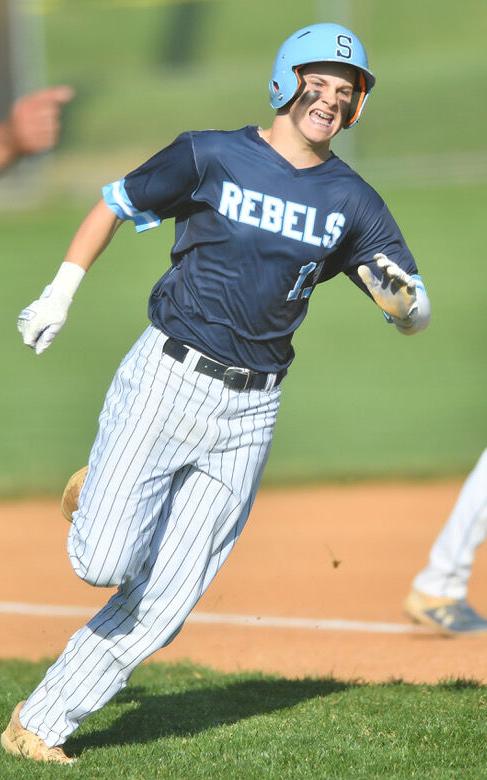 Torbett was slotted in the leadoff position for the 34th annual team. He also took the role of ace for a deep and talented pitching staff.
Joining Torbett in the honorary batting order were Hoover, Daniel Boone senior Gaven Jones, David Crockett senior Cody Wheeley, Unicoi County sophomore Valentin Batrez, Science Hill senior Conner Hyatt, Dobyns-Bennett junior Jake Timbes, University High senior Kaleb Meredith, and Elizabethton junior Bryson Rollins.
Following Torbett in the starting pitching rotation were Hoover, Meredith, Jones, and Science Hill's Evan King. Unicoi County's Travis Whitson was the pick as the setup man while North Greene's Carson Whaley was selected as the team's closer.
It was not a tough call for coach of the year honors as Science Hill's Ryan Edwards led his team to the Class AAA state championship, going undefeated in four games in Murfreesboro.
The second team was led by another Science Hill weapon, Jack Torbett. Joining him were Sullivan South's Sean Reed, Unicoi County's Lucas Slagle, Tennessee High's Brayden Blevins and Dobyns-Bennett's Sam Ritz. Also on the second team were Sullivan East's Dylan Bartley, Providence Academy's Daniel Lawson, University High's Cade Pollock, Tennessee High's C.J. Henley and Hampton's Morgan Lyons.
THE BATTING ORDER
As he did while helping the Hilltoppers reach the pinnacle, Torbett earned his spot at the top of the lineup. He was an on-base standout (.482) while also scoring 44 runs. Torbett added 13 doubles, three triples and stole 14 bases in 15 attempts.
In the No. 2 hole was one of the area's most consistent sticks in Hoover, who had 48 hits with 12 for extra bases (10 doubles and two triples).
The power punch came next with Jones (six homers) and Wheeley (an area-best nine long balls) slotted back to back. The Washington County bombers also combined for 56 RBIs with Wheeley driving in 31 of those.
In the No. 5 spot was the sweet swing of Batrez. He had a crazy on-base percentage of .552. Batrez also added 14 doubles and scored 30 runs for a team that reached the Class AA sectional round before losing 3-0 to eventual state champion Gibbs.
At No. 6, Hyatt was one of the area's best extra-base threats with five homers, 15 doubles and a triple. He also had a sparkling on-base percentage of .507 and was 15 for 15 in stolen bases.
Timbes took over the No. 7 spot. He not only had 11 doubles, but also scored 41 runs and stole 20 bases in 21 attempts.
Meredith and Rollins provided a tough one-two punch at the bottom of the lineup. Meredith offered standout totals of 34 runs and 12 doubles while hitting leadoff for the Buccaneers' state tournament team.
Rollins had it rolling for the Cyclones as he scored 26 runs and was a perfect 16 for 16 in stolen-base attempts. As a pitcher, he was the area's leader with six saves.
THE STAFF
A deep and talented staff allowed the Super 22 team to have five pitchers in the starting rotation.
Heading the list was a dynamic one-two punch of Torbett and Hoover. Torbett struck out 78 batters in 62 2/3 innings and logged three shutouts, including an 11-strikeout, three-hit gem in the state tournament that put the Hilltoppers in the championship round of their bracket.
Hoover was the ace for South, which reached the Class AA sectional round. He racked up 74 strikeouts in just over 50 innings of work and totaled three shutouts.
Taking over the No. 3 spot was Meredith, who had 100 strikeouts in 75 innings and had a WHIP of 0.960. He also earned the win with eight innings of work in the Buccaneers' first state tournament win since 1992.
Jones was a dominant force for Boone as he gave the Trailblazers a chance against any team when he was the starter on the mound. He threw a one-hitter against Dobyns-Bennett in a 1-0 win and allowed zero earned runs in a three-hitter against Science Hill, a 1-0 loss. He finished with 65 strikeouts in 51 innings.
King was undefeated on the season at 7-0 and earned two of those wins in the state tournament. He struck out 53 batters in 49 1/3 innings.
The setup role went to Whitson, a powerful pitcher who totaled a whopping 93 strikeouts in just 48 1/3 innings of work. He also surrendered only 27 hits for the season.
Whaley had closer stuff, racking up and area-best 103 strikeouts in 66 innings of work as North Greene reached the Class A state tournament. He gave up on 45 hits and opponents batted only .183 against him.
THE SECOND TEAM
Jack Torbett led the Hilltoppers with a .396 batting average while also nailing three homers and driving in 31 runs. The junior also had 14 doubles and cracked eight triples.
Reed, a junior, had a superb batting average of .487 and finished with 55 hits. He had 14 doubles and three triples while also driving in 39 runs.
Slagle, a sophomore, packed a powerful bat for the Blue Devils, finishing with eight homers and 26 RBIs. As a pitcher he had 48 strikeouts in 43 1/3 innings.
Blevins was a clutch hitter for the Vikings, who reached the regional tournament. The junior hit .356 with four homers and 39 runs batted in.
A junior, Ritz was a force for the Indians, batting .355 with 10 extra-base hits. He hit six homers and drove in 34 runs and stole 18 bases.
Bartley, a junior, was a major weapon for Sullivan East, totaling seven homers and 26 RBIs in the regular season while also hitting .442. He also scored 30 runs and struck out only five times in 113 plate appearances.
An important part of Providence Academy's strong season, Lawson hit .459 and scored 36 runs. The senior had only two errors all season despite moving around to four positions.
Pollock was a beast for the Bucs, hitting .411 with an area-best on-base percentage of .563. The junior totaled 16 doubles, 32 RBIs and scored 30 runs.
Henley batted .404 and totaled 28 RBIs for the Vikings. The senior also scored 34 runs.
Lyons helped Hampton get within five outs of a region tournament berth. The junior batted .400 with 27 runs, 29 RBIs and a perfect 17 of 17 on the base paths.