Bob Robinson
Guest Column
Editor's note: In this column, former journalist Bob Robinson remembers a trip behind the Iron Curtain to the Soviet Union.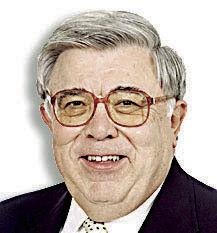 It was a cold and rainy evening at LaGuardia Airport in New York City when we boarded the overnight TWA flight to Brussels, Belgium and then on to Moscow. I was the youngest of 25 Tennesseans traveling to the Soviet Union as part of President Dwight Eisenhower's People to People Goodwill trip. It was an agriculture mission led by the director of the Tennessee Dairy Association.
Most in the group were state legislators, including my dad, Sen. Herman Robinson of Elizabethton. I was a student at the University of Tennessee and a news reporter for WBIR Radio and TV Station in Knoxville. The 1963 trip was paid by each participant, approximately $2,500, which included airfare, hotel and food, a cheap price compared to today's standards.
It was to be a three-week trip to the Soviet Union and neighboring countries to share ideas on agriculture. In our group were a couple of cattle ranchers, a couple of bankers, two medical doctors, a real estate professional and a couple of unannounced journalists, me and my father, Elizabethton Bureau Chief of the Johnson City Press Chronicle.
Each of us had to list our profession. We did not mention journalism because in those days it was taboo and entry was not permitted by the Soviet Union. I listed myself as a college student but I had 2,000 feet (20 rolls of 100 feet each) of 16 mm film and a movie camera to record the trip for a documentary I later prepared for airing on WBIR TV.
When we landed at the Soviet International Airport, it was dark. We had lost a day in the travel from the United States to the Soviet Union. We were bused to Hotel Moscow, one block from the Kremlin. After checking in, I suggested to one of my travel companions that we see the Kremlin, which was about 100 yards away across a large thoroughfare. At that time of day, there was little traffic.
We crossed the boulevard and walked to Lenin's Tomb outside the main entrance to the Kremlin. Two solders with rifles and bayonets at the ready were guarding the tomb with their backs to the tomb.
Streetlights lit up Kremlin square, with the buildings' unique architecture and the cobbled streets. You could see Lenin's casket, which was uncovered, with him lying in state. It was surreal as if he were sleeping.
During the five days we were in the Soviet Union, we visited collective farms, visited a museum and Grand Hall where their Congress met. Our tour guide was the daughter of Russian President Nikita Khrushchev.
Each morning began with a hearty breakfast. We were on a tight schedule. We boarded a bus in front of the hotel and were enroute to a collective farm. The first thing our group noticed was a rusty-looking combine sitting idle in a field. We learned it was broken because no parts could be found.
Collective farms were abundant in the Soviet Union. Certain crops were raised and then shared with others to meet the need for food for their families. That is why they were called collective farms.
We next flew to Warsaw, Poland, on a state-operated Aeroflot DC 9 aircraft. You enter in the rear of the plane and walk uphill in the plane to get to your assigned seat. We flew Aeroflot jets for longer trips.
In Warsaw, a member of our delegation had a flashback of his time in war, brought back by the bullet holes in buildings that were still visible. In fact, he was so physically shaken he had to be flown back to the United States, accompanied by a member of the American Embassy staff in Warsaw.
At each country, our day began with a meeting with the American Ambassador, who gave a briefing on U.S. interests in that country. When he opened the Warsaw meeting, he first asked if there was a Bob Robinson from Elizabethton, Tennessee, in the group. I raised my hand. He said he wanted to see me after the briefing. He told me there was a student from Elizabethton attending the University of Warsaw. Did I know her? I replied no, but I knew her father. He was the owner/operator of Tri-State Container Corp. (the box factory) in Elizabethton which today houses Medical Care.
In Poland, we visited collective farms, a bakery, a pickle cannery and a medical clinic. The two doctors in the group were permitted to go inside the operating room and see surgery taking place.
At lunch one day in Warsaw, to everyone's surprise, a birthday cake was presented to my father on his 50th birthday. The cake was baked at a collective farm diner and presented to him by the chef. Everyone sang "Happy Birthday."
While in Rostov, we toured a combine factory and met with the general manager. We asked why there were no replacement parts for abandoned combine equipment. The general manager said the factory only makes combines and not spare parts.
Near the end of the day, our tour guide asked if anyone would like to visit a Communist Worker's Camp. I raised my hand, along with one other member of the group. Our bus driver took us to the camp, located along the Don River, between the Caspian and Black Seas.
It was a like a mini resort. We changed into swimming trunks at the lodge and saw a pool table nearby. The billiard balls were the size of a grapefruit. They were difficult to move with a pool stick.
We next went to the swimming pool area and met a Russian and his companion who greeted us from their boat. We could not communicate because they spoke Russian and we spoke English.
We also visited East and West Berlin, Germany. At Checkpoint Charlie, everyone surrendered their passport to the East Berlin guard. The passports were returned when we left East Berlin.
The highlight of that visit was to see where President Ronald Reagan challenged President Gorbachev "to tear down this wall" that separated East and West Berlin. Seeing the Brandenburg Gate, with memories of its military history, was another highlight.
After visiting Germany, we flew to Lucerne, Switzerland, where we drank our first Coca Cola soft drink since leaving the United States. We toured the area, marveled at the pristine air in which to breathe, and took a tram to the top of the Swiss Alps.
When I returned to Knoxville, I prepared a 20-minute documentary on the trip and included footage of the underground subway system that circled Moscow. Due to its depth in the ground and its large space, it could serve as an underground bomb shelter, the group surmised.
Bob Robinson is the public information officer for the Tennessee College of Applied Technology at Elizabethton.