Kenneth "Herb" Greenlee strives to provide direction to kids who feel rudderless.
"Herb is a father to the fatherless," Johnson City Commissioner Aaron Murphy said during a commission meeting on Thursday. "I think we all can agree to that. It seems like he's always been there. He works early mornings and works late nights."
Greenlee has been the supervisor of the Carver Recreation Center since the late 1980s. He also serves as a member of the Johnson City Board of Education.
At the suggestion of members of the public, Johnson City commissioners voted Thursday to name the facility's new splash pad after Greenlee.
Now called the "Kenneth 'Herb' Greenlee Splash Pad at Carver Park," the 3,800 square-foot play area originally opened in May.
"Herb is not a person who goes to work just to go to a job," Commissioner Jenny Brock said. "He has committed his life to the work that he does, and ... he has mentored and coached and guided and been a father figure to many, many kids."
"We have been very fortunate as a city to have a person like Herb," Brock continued. "I am sure the hours he's put in don't fit into a 40-hour category at all, and so I couldn't be more proud than to vote to name this very unique splash pad at Carver after Herb."
Townhome rezoning advances
A request to rezone property off Knob Creek Road, which would allow a developer to build 178 rental townhomes, will advance to a public hearing on Dec. 16.
Commissioners approved the request on first reading Thursday. The proposal requires three rounds of approval before it goes into effect.
The 22-acre property at 2644 Knob Creek Road would change from B-4 (planned arterial business) to RP-3 (planned residential).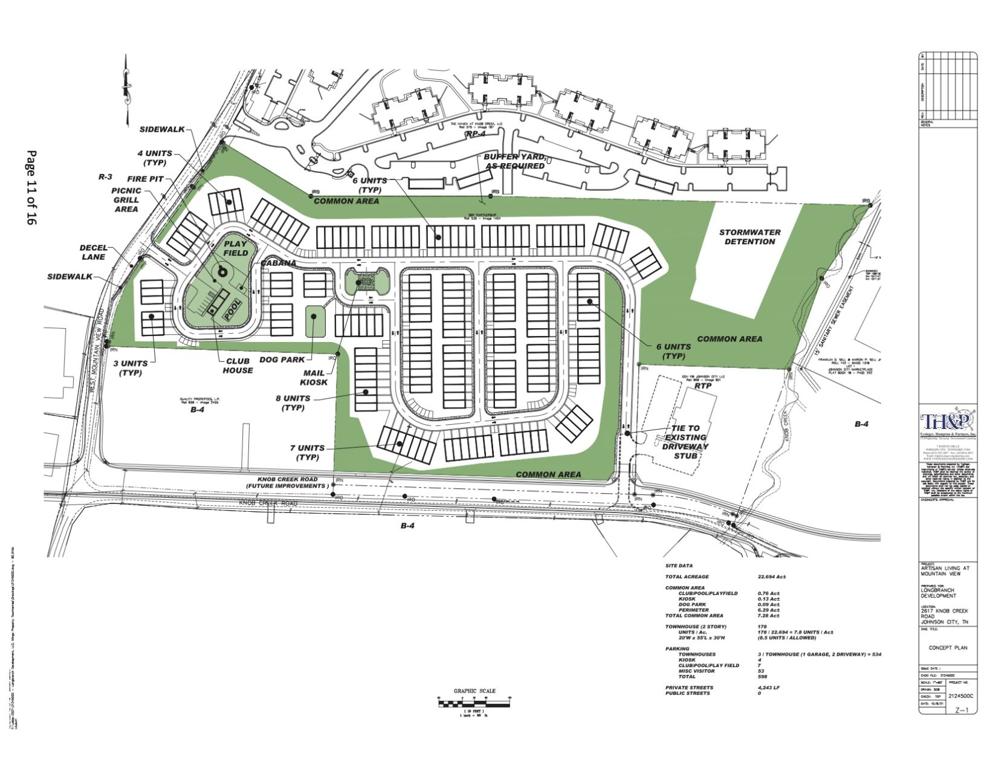 The developer, Longbranch Development Company, has said the townhomes would charge an average rent of $1,500. The complex would have two points of access: One at Knob Creek Road and the other at West Mountainview Road.
The company is making the request as city officials gear up for improvements to Knob Creek Road, a project that will turn the corridor into a five-lane roadway with an overpass that crosses the existing CSX railroad. The state will pay for construction.
Nearby residents have expressed concern about the townhome complex's impact on traffic and how the timing of the road improvements would coincide with the construction of the project.
Practically, construction of the bridge over the railroad tracks could begin as early as spring of 2023, said Public Works Director Phil Pindzola.
Pindzola told commissioners Thursday that a traffic study found Knob Creek Road currently sees about 9,130 vehicles per day and Mountainview Road see 5,268 trips. City staff estimate that the 178-unit complex would add 1,184 daily trips.
"Under current conditions, we don't see a problem with the traffic volumes generated by this development," Pindzola said.
Pindzola said staff expects most traffic leaving the complex at Knob Creek Road would travel toward State of Franklin Road, where there are more businesses and employment centers. They also anticipate that about 60% of the development's traffic would leave from the Knob Creek exit.
To build capacity for future projects, the city is also planning improvements on West Oakland Avenue and West Mountainview Road, which would turn that corridor into a three-lane road. That project is awaiting funding from the city.
If the property remained zoned B-4, Pindzola said, it could turn into a more vehicle-intensive development. A 150,000 square-foot shopping center, for example, would generate 6,405 daily trips.
Brock said that if the property continues to be zoned B-4 it could develop into a less desirable project.
"I think we're going to have to accept the fact that for the next three years or so it's going to be a lot of traffic and a lot of activity going in that particular area," she said. "I hope and I know the city will be very involved to make sure we mitigate as much congestion as we possibly can."