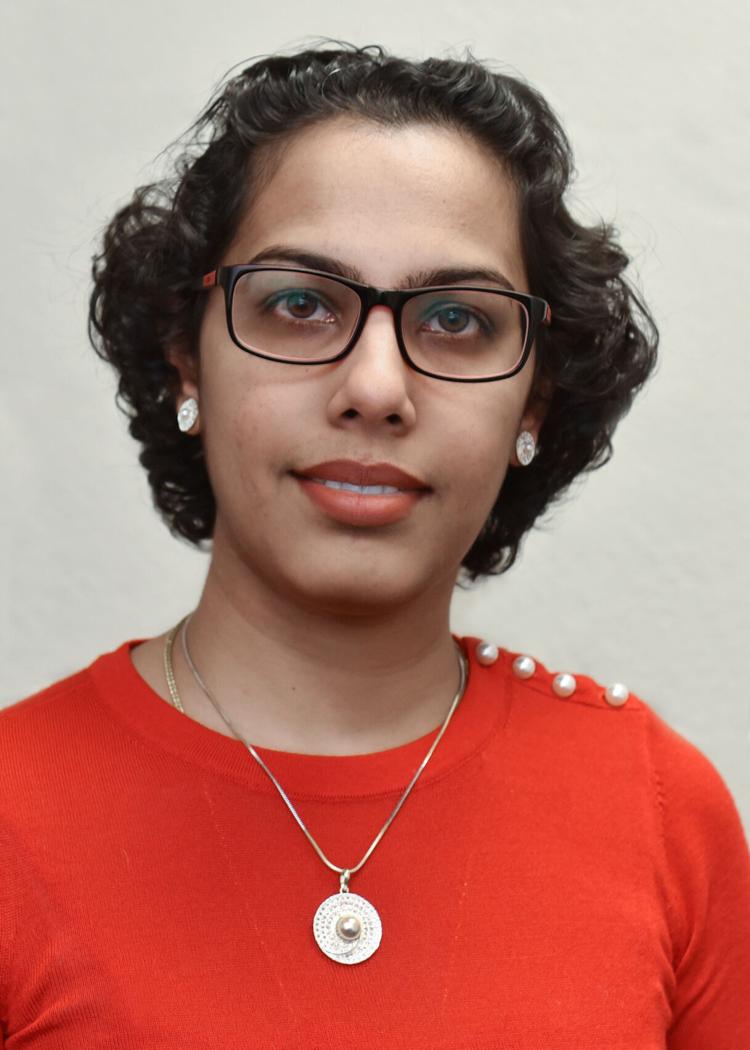 Dr. Chaya Guntupalli, an associate professor in East Tennessee State University's Department of Audiology and Speech-Language Pathology, says our voices are a major part of our identities.
Guntupalli developed a Vocal Fatigue Index, which is a series of questions to help identify whether people have vocal fatigue. Her index has been translated into different languages and used around the world.
As educators continue to teach courses during the COVID-19 pandemic with masks on, many have felt the need to speak louder. Because of this, she's worked to teach educators how to communicate in a way that doesn't cause damage to the vocal folds.
The Press asked Guntupalli to tell us more about herself, her work and thoughts on education during the COVID-19 pandemic.
What does your work involve?
I teach undergraduate and graduate students, see patients in the voice clinic and supervise graduate students in voice clinics and work on my research grant identifying differential treatment options for vocal fatigue in teachers. My primary focus and passion is on the prevention and treatment of voice disorders, with a specific interest geared toward understanding and relieving the symptoms of vocal fatigue.
What drew you to your work?
Voice is an individual's identity. We take our voice for granted until we experience any issues with it. Teachers are professional voice users and usually attribute their voice issues, specifically, vocal effort, vocal fatigue, or their raspy voice as an unavoidable consequence of their voice use. But that does not have to be the case. We can use simple vocal exercises or even cardio conditioning to help with the symptom of vocal fatigue and better manage their voice. My current research, funded by the National Institutes of Health, is focused on identifying appropriate treatment options for teachers with complaints of vocal fatigue. I enjoy sharing this passion with my students in the clinic and class as well.
What tips do you have for people working with masks in the classroom?
Wearing a mask makes it harder to be heard. Teachers will tend to increase their volume to be heard behind a mask. Just a few tips to keep your voice healthy: Choose the right type of mask; the mask needs to allow for easy movement of your lips and jaw. Exaggerate your articulation — enunciate every sound precisely, slow down and take breaths, reduce any background noise in your classroom, use noisemakers like a drum or bell to get the attention of the students instead of your voice. Use gestures or writing on the board as other means of communication. Drink sips of water. Vocal naps — rest your voice for brief periods.
What other kinds of challenges come with working in education during the pandemic?
Multiple challenges have been presented along the way since the onset of the pandemic. Within a week, we had to creatively and quickly shift all our teaching and clinical activities to remote learning. We had to problem solve and find innovative ways to deliver the content effectively, yet keep the students engaged. During this remote learning, we have to work through technological and environmental challenges like lag in voice or poor playing of an audio and video sample, or background noise from your children or pets.
A bigger educational challenge that we face is the ability to provide opportunities for the student to complete their experiential learning with all safety protocols in place. However, we have adapted to provide some of the experiential learning opportunities via telehealth modality, utilizing a case-based simulated learning approach and following all safety protocols when providing services in a face-to-face environment.
What have those working in education learned through the pandemic?
Adapting during this pandemic has taught us to be flexible, creative and work as a team to provide the best possible learning environment and experiential learning opportunities to the students. Our key has been to have open communication among colleagues to problem solve with a motto of, "Let's make things happen and go with the flow."
Our students have been flexible and adapting to the varied opportunities offered to them. This pandemic has strengthened the bond between faculty and our graduate students — a positive outcome amid the pandemic.