Sept. 13, 1873: The Daily Press and Herald, a newspaper in Knoxville, reported an interesting story about a dog. With a report from Jonesboro, readers learned, "There is a dog in town who has made it a business to visit cholera patients. He has evinced remarkable solicitude for their recovery and seems to understand when they begin to get better as he discontinues his visits." Readers also learned "On last Friday … Sam Rhea and Wm. Benson, got into a difficulty about a woman. Rhea struck Henson on the head with a hammer causing a dangerous wound. He (Rhea) was brought here (meaning Jonesboro) and lodged in the county jail. They were both train hands. The difficulty occurred between Johnson City and Carter Depot."
Sept. 13, 1892: The Comet reported, "The police made no arrests yesterday and Recorder Gump had a quiet time all to himself at the city hall."
Sept. 13, 1916: Mary, the former circus elephant, was hanged in the Clinchfield Railroad Yard in Erwin. She had grabbed a circus attendant, Red Eldridge, with her trunk, "threw him into a drink stand and then proceeded to stomp on his head until it exploded in a horrific display of brutality."
Sept. 13, 1936: The Sunday Press Chronicle provided readers with a humorous story to begin the week. "There was a killing early yesterday at his home, Charles Hughes, 423 Highland avenue said yesterday, but the victim was only a chicken- stealing possum." The account continued, ""Hughes was awakened twice by squawks from the chicken lot. The second time Mrs. Hughes cornered the thief with a flashlight while her husband dispatched it with a tomato stick."
Sept. 13, 1953: Arney Motor Co., 84-86 Wilson Ave., advertised the new Pontiac Chieftain.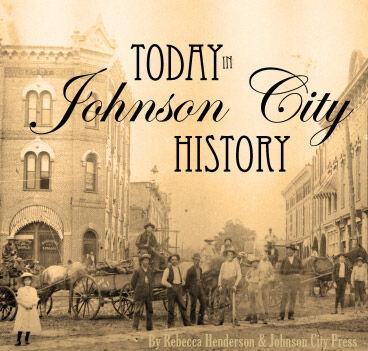 Sept. 13, 1957: The Johnson City Press-Chronicle reported, "City Recorder Calvin Guthrie, Auditor James B. Holt and several other accountants were in Bristol yesterday attending a showing and demonstration of business machines."
Sept. 13, 1957: The last graduation exercises were held at Memorial Hospital School of Nursing, ended the 46-year history of the school.
Sept. 13, 1967: The Press-Chronicle featured ETSU Bucs Richard Parker and Al Marcelin Parsons.
Sept. 13, 1979: Readers of the Johnson City Press-Chronicle learned the Hammond Organ Company had plans to expand in Johnson City. There was a potential to hire more than 2000 employees over a four-year period.
Sept. 13, 1995: The Johnson City Press reported that Rusty Crowe was considering switching to the Republican Party from the Democratic Party. "Citing conflicts with the state's Democratic Party and years of pressure by Republicans in his district and in Nashville, State Sen. Dewey 'Rusty' Crowe, D-Johnson City, said Tuesday that he is 'weighing very heavily' switching his allegiance to the GOP."
Sept. 13, 2001: Those who wanted or needed a map of Johnson City and Washington County learned they were in luck as they read the Johnson City Press. "The Chamber of Commerce, with the assistances of the city of Johnson City's GIS Department, has designed an updated street map for Johnson City and Washington County." The maps were $3 each.
Sources: Daily Press and Herald; The Comet; "Legends and Lore of East Tennessee" by Shane S. Simmons; The Sunday Press Chronicle; Johnson City Press-Chronicle; Ted Bowers; "A Beacon to Heath Care" by Ray Stahl; Johnson City Press.