Oct. 28, 1890: The Arkansas Gazette, a newspaper in Little Rock, reported on recent banks that had been incorporated. "Banks have been incorporated at Dardenelle, Ark.; Savannah, Ga.; Florence, S.C.; Bristol, Tenn., and Johnson City, Tenn."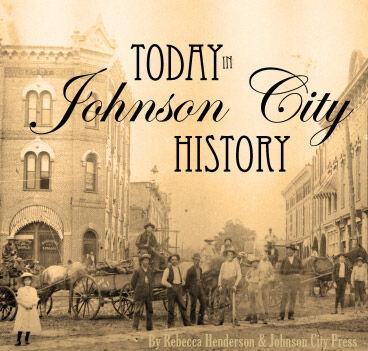 Oct. 28, 1921: The Arkansas Democrat, a newspaper based in Little Rock, ran a story with a dateline of Johnson City. "As the result of a battle between United States Marshal Ralph Moore, Sheriff Corn and Joe Wilson and a man named Rich and Milt Slagel, Rich was shot and instantly killed by Moore and Slagel received a dangerous wound. The fight took place at the head of Dry Creek in Washington county." The article continued with these details: "Marshal Moore had a warrant for John Rich. When he and deputies reached his house he was arrested and his house searched. A distillery was found and destroyed. While officers were searching Rich's home his daughter went into nearby woods and told her brother and brother-in-law that officers had arrested Rich. The men came from the woods and encountering the officers, started shooting."
Oct. 28, 1924: With a dateline of Johnson City, the Nashville Banner reported on a recent lawsuit of local interest to Johnson Citians. "The jury in the circuit court here Monday returned a verdict in favor of the defendants in the case of Miss Delle Dulaney Smith vs. the State Board of Education and President Sidney G. Gilbreath of the East Tennessee State Normal." The article continued, "Last summer, a year ago, Miss Smith was elected by the state board assistant professor of chemistry at the normal school on the recommendation of President Gilbreath. Before that time she had been professor in charge. When she reported for work and found out that another professor had been elected to take charge of the work, she to be his assistant, she refused to teach. The result was a suit for damages against the board and the president of the normal school, for her salary." The story concluded, "The case was presented to the court here last week. The jury reported Monday morning in favor of the defendants. The plaintiff has five days in which to file an appeal."
Oct. 28, 1930: The Johnson City Staff-News carried an ad for King's Department Store in Johnson City. The ad mentioned that it was "Record Month at King's" with record low prices and record stocks.
Oct. 28, 1942: "Priorities on Parade" was showing at the Majestic Theater. Ann Miller and Betty Rhodes had leading roles in that movie. "A-Haunting We Will Go" was currently being shown at the Sevier; Stan Laurel and Oliver Hardy were starring in that movie. The Tennessee was featuring "The Spoilers," with Marlene Dietrich, Randolph Scott and John Wayne having the leading roles.
Oct. 28, 1947: The Johnson City Press-Chronicle informed readers "Mrs. Ford Wilson, who recently underwent a major operation at the Appalachian Hospital, has returned to her home on the Kingsport highway." The Kingsport Highway is now known as North Roan Street.
Oct. 28, 1962: The Press-Chronicle reported, "Floyd Taylor, 24, of 712 Wade St., was treated and released at Memorial Hospital for a lacerated thumb which he caught in a potato peeler, according to hospital sources."
Oct. 28, 1965: "Help!" starring the Beatles was showing at the Sevier Theatre on Spring Street in downtown Johnson City.
Oct. 28, 1968: North Junior High football coach Bob May was pictured in the Press-Chronicle talking things over with Bandits Joe Curtis and Sidney Wright. May would go on to coach at Science Hill High School and later landed a spot on the Johnson City Commission. He served as the city's mayor from 1997-1999.
Oct. 28, 1969: The Johnson City Christian Women's Club had recently met and had a fashion show during their luncheon, according to the Press-Chronicle.
Oct. 28, 1971: According to the Press-Chronicle, Bill Ricker had been appointed Johnson City's new city manager. "Mayor Vance Cheek, who spoke to the (city) commission, said much thought and research had gone into the selection of Ricker as the man who would most efficiently head the city government."