For the past 11 years, Mona Lisa's Gelato & Café has been Johnson City's go-to source for great light-fare meals and superb gelato. Originally started by Steven and Sheridan Nice, 2020 saw new owner Aleda Stokes give Mona Lisa's an updated interior re-arrangement that was more attractive and customer-friendly.
First impressions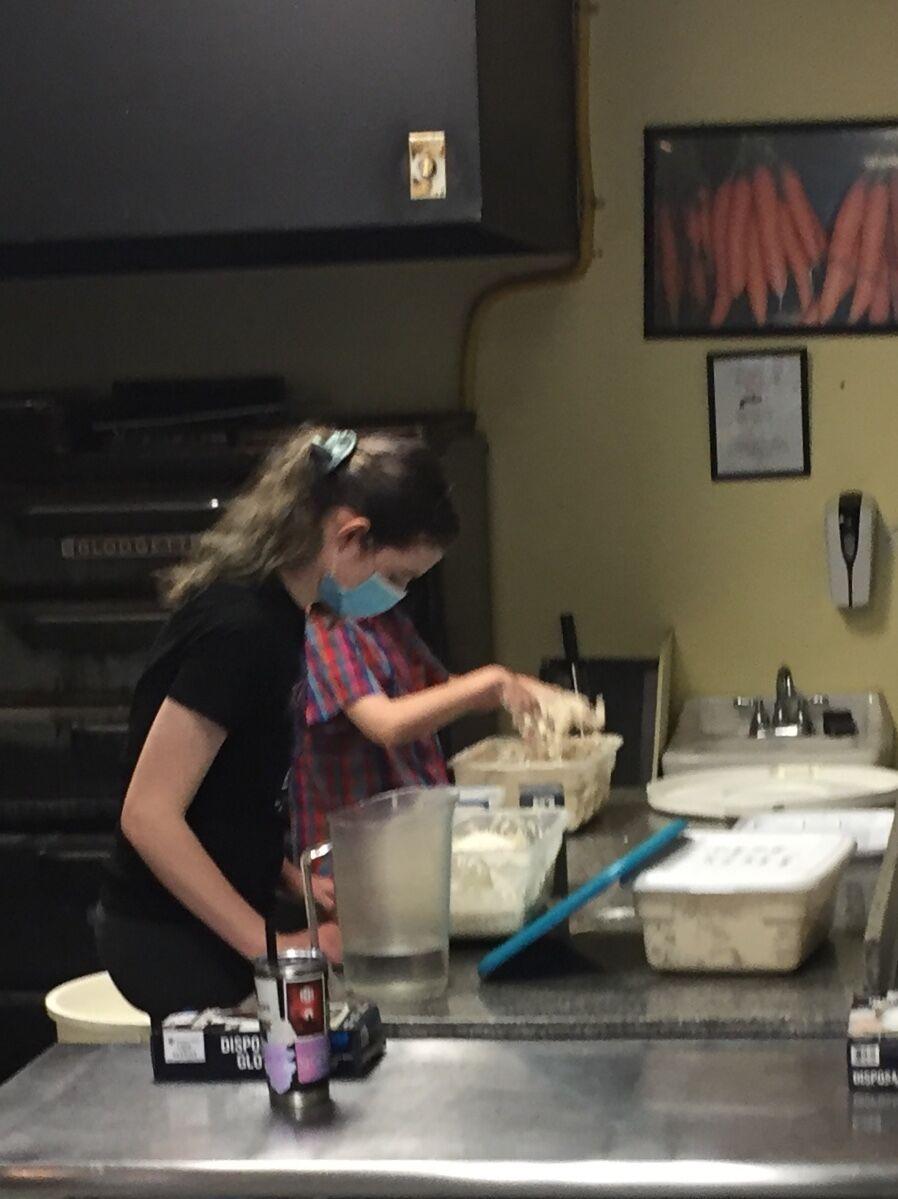 The hot soup buffet has been relocated to the rear of a dining area that now seats nearly 40 hungry patrons, with al fresco seating accommodating another 20 or so. While the refrigerated gelato display case retains its place of privilege, the cashier and carry-out counter has been updated to be more efficient. At the rear of the dining area is the prep bakery and ovens where the rustic breads and ciabattas for Mona Lisa's sandwiches and ciabattas begin. Restroom access is tucked in at the far right rear corner.
Daily Special – ½ Toasted cheese ciabatta w/ cup tomato basil soup
Helping at the counter was the friendly and capable Molly who ably assisted our friend the Retiree with her order of Mona Lisa's daily special; a cup of their homemade tomato basil soup together with a half-order of a toasted American cheese ciabatta plus chips and a drink for just $9. Molly was ably assisted by a familiar face to Mona Lisa's customers, the café's manager, Alyssa, doing double duty in food preparation while we were there. The Retiree found the tomato basil soup a thick, rich and savory mixture of creamy and savory tomatoes with a kiss of basil while her toasted cheese ciabatta was a perfect accompaniment in texture and flavor.
Chicken, Bacon & Ranch ciabatta
My dining partner chose a full-size Mona Lisa's chicken, bacon and ranch ciabattas with a bag of chips and a drink ($12). An addition to the shredded white meat chicken and strips of lean, smoky bacon, my partner's ciabatta was also filled with melted American cheese, and while light on the creamy coleslaw, was crunchy on the ciabatta. This pleased my dining partner no end.
Pork Banh Mi ciabatta with a la carte cup of Southwest Chicken Chili
When I ordered a Mona Lisa's Banh Mi pork ciabatta ($12) as my entrée, I also ordered an a la carte cup of their Southwest chicken chili soup ($4) to go with it. Mona Lisa's version of the famous Vietnamese sandwich, taking a scratch-made ciabatta bun stuffed with pulled pork barbecue as the protein source, together with lettuce, purple onions and pickled red banana peppers. Drizzle with Mona Lisa's proprietary Banh Mi sauce and grill just so. Alternating bites of my Banh Mi sandwich with spoons of the spicy Southwest chicken chili soup gave my taste buds a real workout.
And for Dessert
Once our supper was completed, our thoughts turned to dessert, and the contents of Mona Lisa's gelato display case up front.
At $4 a scoop (add 50 cents for a cone), Mona Lisa's gelato differs from ice cream in a number of ways. It is slow churned to lessen the amount of air being incorporated in the mixture, giving the gelato a denser, richer texture. Gelato uses more milk than cream, so there's less fat. Gelato is served a bit warmer at seven degrees Fahrenheit rather than ice cream's zero degrees, giving your taste buds time to recover from the cold.
The Retiree chose a single scoop of Mona Lisa's Cherry Grazie a smooth sweetness of vanilla balanced with the bittersweet-ness of Italian amarena cherries.
My dining partner likes her gelato to be simple and straightforward, choosing a single scoop of Mona Lisa's chocolate gelato; cold, rich and totally chocolate in every respect.
I chose a scoop of the lemon sorbet, a citrus-y sour-sweet confection of gritty texture and freezing temperature that threatened visitation of dreaded "Brain Freeze" upon me with every spoonful.
The bottom line
As my friends and I were getting ready to leave, Molly and Jackson, more of Mona Lisa's employees, were in the bakery, mixing up a new batch of ciabatta loaves for the oven. Observing from a distance, I watched as the pair created perfection from flour, yeast, salt and water, using only their skilled and careful hands. I remarked on this to Alyssa, who said that the same care went into preparing the gelato.
It didn't surprise me.
Why not stop in and see if it surprises you?