Growing up outside of Nashville in Portland, Tennessee, Tony Henson spent most of his childhood working on a tobacco farm.
When he wasn't working, Henson would spend hours watching his brother draw Marvel characters — enamored with his older Todd's ability to take a blank piece of paper and turn it into his favorite superhero: Spider-Man.
Inspired by his brother, Henson made art his life.
After graduating from Western Kentucky University with a Bachelors of Studio Art, Henson made his way to Johnson City and East Tennessee State University, where he earned a masters degree in fine arts. After graduating from ETSU, Henson went on to teach at Watkins College of Art in Nashville.
Now teaching drawing at Dobyns-Bennett High School in Kingsport, Henson was recently selected to be a part of the Reece Museum's Contemporary Culture Makers exhibit, curated by Jocelyn Mathewes. The gallery also features the art of former featured artists Ruby Berry, Jason Flack, Richard Graves and Stacie Williams.
Earlier this week, the Press emailed Henson to discuss his introduction to art, his experience museum and the inspiration for one of his paintings at the exhibit. 
Henson briefly: 
Favorite colors: Purple and blue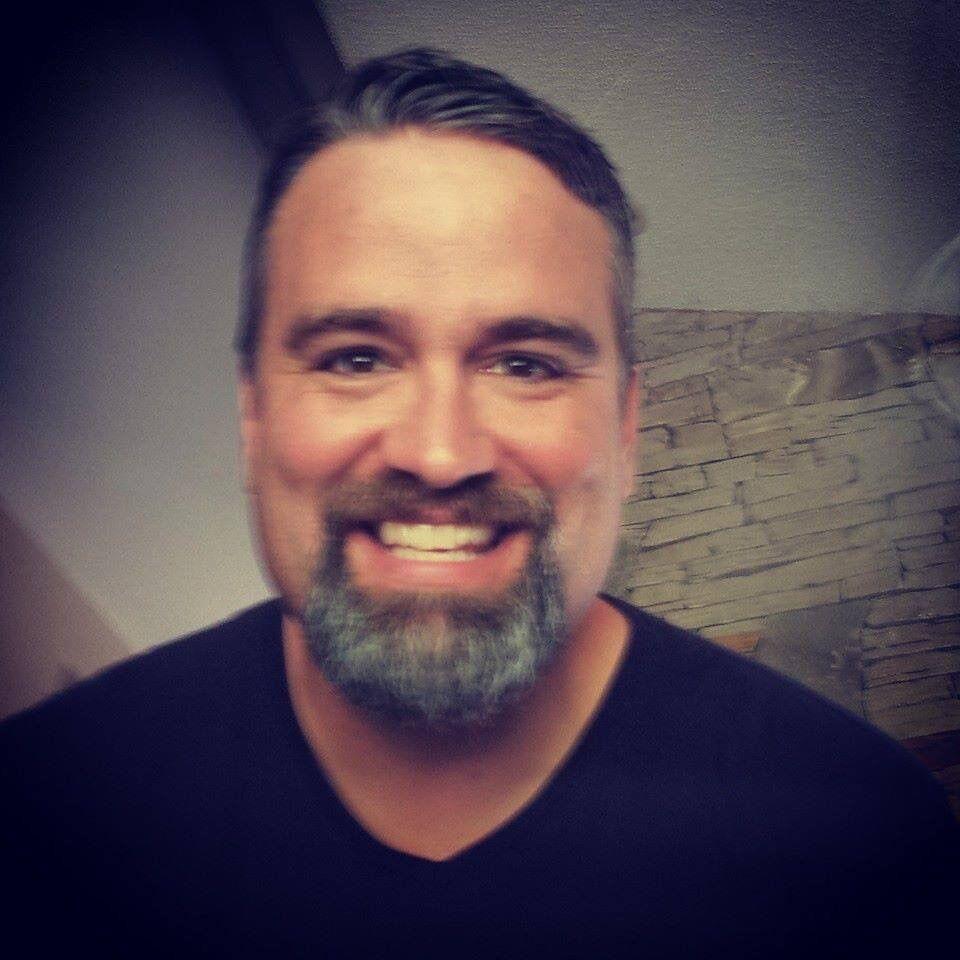 Favorite local restaurant: The Label
Coffee or tea: Sweet tea
Biggest influences: My oldest brother Todd. I watched him draw Spider-Man when I was 3 and he was 13 for hours each day. Artists Mark Rothko, Gerhard Richter, Joan Mitchell, Van Gogh, Jim Dine, etc.
Dogs or cats: Cats!
How did you get into art?
Watching my oldest brother draw Marvel comic book characters is what got me into Art. I thought it was magic how he could transform a white sheet of paper into my favorite superhero, which is Spider-Man. At age 40, I got a Spider-Man tattoo as a reminder on where my passion started with Art. Art saved my life.
How would you describe your artistic style?
Expressive, emotional, and loose. I don't plan a painting or make a sketch. My paintings are about how I see and experience color in nature. I also listen to music while painting as I have synesthesia which means I can see colors when I hear music. My paintings are a religious experience for me and I may weep while painting as if the Holy Spirit is next to me.
What's been your experience working with the Reece Museum?
Everyone has been so professional and great there. (Exhibition Coordinator) Spenser (Brenner) and (Director) Randy (Sanders) allowed a couple from Charlotte to see my paintings on Jan. 18 when the museum was closed. The couple came to my studio and later bought the 3'x9' painting "Creating a New Landscape."
How did you end up being selected for this exhibit?
My artist friend Jocelyn Mathewes sent me an email asking if I would show a few large paintings. My answer was. "Yes!!!"
What was the inspiration for the 'Creating a New Landscape' painting in the Reece exhibit?
I got the idea from a James Turrell book my wife bought me. The last chapter has the same title as this large triptych. Each canvas is 36x36" and put together really creates a strong statement of space, texture, and color. I was thinking of Gene Davis, Sean Scully, and Gerhard Richter during this small series of paintings. One similar to this was in a show in NYC and another was at LeQuire Gallery in Nashville. I created 6 of these paintings a few years ago. I took the horizontal idea of landscape and flipped it vertically while compressing the space in some areas and opening the space in other areas.
In terms of texture, there is plenty of contrast and thick vs. thin areas to provide visual interest. The color especially to the far left represents a large tree with fog behind it. The opposite side to the far right represents a sunset and throughout this painting you have colors that indicate sunrise/sunset, water, sky, flowers, grass, moss, etc. Elements in nature or colors that are exaggerated from nature.
I have no interest in creating a painting of a landscape that a camera can capture. My goal is to be influenced and inspired by nature and show the viewer how I see and experience it.
You can view more of Henson's work at www.tonyhensonart.com.