It has been three months since Selena Harmon began work as the director of Unicoi County Public Library. But when she speaks about the library and its potential, it is obvious her excitement for the job has not aged a day.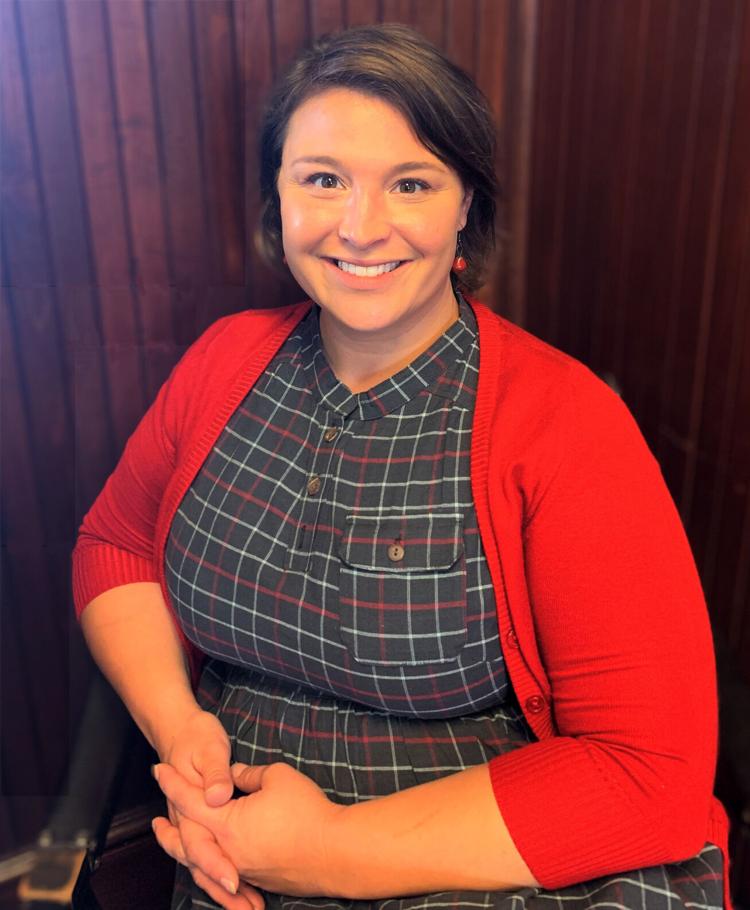 "It felt like home right away, this quaint, special library, with all of this potential," Harmon said on Thursday, just hours away from the close of what had been a difficult and transformative year for public libraries everywhere.
And with the new year just over the horizon, she took time to answer a few questions about herself and how she came to Unicoi County, how the pandemic has impacted the library and what the future may hold.
How did you come to Unicoi County?
"I worked my way up in library science starting in the Archives of Appalachia in the East Tennessee State University Library Archives. I really loved the work but the pace didn't match my personality. So I took a pay cut to go to the Johnson City Public Library, part time. And when I discovered public libraries, I discovered my calling. I found my people."
After 2½ years at the JCPL, a postgraduate degree in information sciences and a short stint as manager of the Sullivan County Public Library's Colonial Heights Branch, Harmon said she saw the opening at Unicoi County Public Library, "crossed my fingers, crossed all the Ts and dotted all the Is on my resume and I got it."
What's been happening at the library since you arrived in September?
"We're moving stuff around, reorganizing to streamline, without detracting from the library's nostalgic charm.
"We're involving the community more in our collection, allowing patrons to request what books and materials they want us to purchase.
"And we are looking to provide more programs and services geared toward community wants and community needs.
"We are all about the community having a say in what's on the library shelves because we are nothing without our patrons. That's who we serve."
How has the coronvirus (COVID-19) pandemic impacted the library?
"Greatly. It's the loss of interaction that's been the big devastation. Probably like at a lot of public libraries, what's missing is the public interaction."
Since Dec. 2 and through February, UCPL's doors will remain closed. Its materials will be available for pickup at curbside only, and its programs will be offered only online.
But Harmon emphasized that even while the public can not come inside, the library is open and its materials are accessible.
"We're here from 10 a.m.-6 p.m. Monday through Friday. There are people in the library to help. All the public has to do is call us and tell us what they want and we will bring it out to them. And everything that is returned is (cleaned and) quarantined for 72 hours. That's what is recommended."
Still, Harmon acknowledged, these are not the ideal methods of operation and not what anyone desires.
"At the end of the day," she said, "we are not just librarians but teachers, counselors and friends. That's what a lot of people are looking for when they come to a library. It's an important part of what libraries mean to people. It's really a special part of what libraries do."
Also, Harmon said the library's circulation has taken a hit.
"For that while that we didn't know the potential threat (of the coronavirus) and how it spreads, people weren't checking out materials.
"We were forced to do what we've done since the dawn of our existence. We had to evolve. The pandemic forced us to do that and now the library is constantly evolving.
"We started curbside pickup. We started online programs with handout materials for curbside pickup. And for teens we recently started 60-second snippets. Those are video book reviews teens do for each other. And they love them."
What does the new year hold for the library?
"We have a lot of programs people may not know we have. We have delivery for senior people who can't come to the library and we are looking to expand that for people who are disabled."
The library will join points of distinction all along the Appalachian Trail in becoming a AT Passport Site, with a listing for through hikers to seek out and have their passports stamped as they pass through Erwin.
Online, the year will bring new English as a second language and English language learning programs to the library, as well as new online book clubs and online author talks.
When the weather warms, Harmon said, a new literary themed pollinator garden will go in along the walkway facing the railyard to create an outdoor reading space accented with natural beauty.
And with great hope that the pandemic will loosen, the library hopes to host a large, open-air summer reading celebration in June or July.
In all its upcoming endeavors, Harmon said, the library will be working to serve its patrons and the larger community.
"Libraries are more than books. We're a community hub," she said. "It's not just people checking out books. It's people looking to the library for entertainment programs, cultural programs and educational programs. We're looking to provide those programs and services."